Crescent Valley High School
4444 NW Highland Dr, Corvallis, OR 97330
Principal: Aaron McKee
Our Future Club Contact:
Please use the contact form at bottom of page.
Social Media:
Please use the contact form at bottom of page.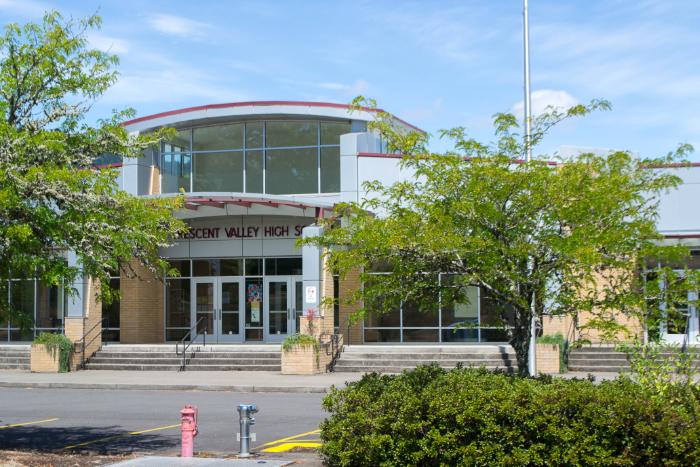 Brief history of how our school, and its students, have addressed environmental, climate, racial justice and/or social justice work
Corvallis School District has been fortunate enough to encourage students to discuss environmental/racial injustices and incorporate the conversations throughout K-12. The majority of Crescent Valley students self-educate outside of campus, but resources provided in the school are warmly welcomed. Previously, a member of student government surveyed a large percentage of Crescent Valley students on topics revolving climate change and social justice in the classroom. Numbers ranged for each question, but the most conclusive answer received was the lack of education relating to American Indians/Alaska Natives and Native Hawaiians/Pacific Islanders. (If you would like more info on the survey, contact Kate Voltz via kate.voltz@student.csd509j.net. )
A large sum of CV students support addressing climate change and racial inequities, but they are limited in taking action. Whether it be scheduling conflicts or not knowing where to start, students have difficulty navigating what they can do in their own community. Our Future hopes to resolve this problem by giving students concrete opportunities, and amplifying their efforts through the statewide network.
Club goals, priorities and interests (that are aligned with Our Future)
Community action and civic engagement.
Being involved with legislative actions.
Having student representatives on a "youth climate council" in your city and/or county.
Becoming certified as an Oregon Green School (or upgrading to the next level).
Enhance your waste reduction practices (e.g. composting, paper use, recycling, beverage containers, reusable utensils in the cafeteria).
Training opportunities for Our Future leaders (e.g. leadership skills, fundraising, etc.).
Training opportunities for other students at your school (e.g. climate science, how to get involved in environmental/social justice issues).
Increase club membership (including recruiting Freshman/Sophomores into your club/team).
Maya Schwartz, Junior
(To reach Maya, please use the contact form at the bottom of this page.)
Student Gov. (Sustainability Coordinator), Co-President of SEA Club, Junior Editor in Chief (for CV's newspaper)
Sarah Hovermale, Junior
(To reach Sarah, please use the contact form at the bottom of this page.)
Co-President of SEA Club, YouCAN Member
Oregon Green Schools Corner
Stay tuned for Oregon Green School certification progress!