Our Future Newsletter: Feb/March 2022
Thank you for staying informed about what Our Future is working on, both in individual schools and as a statewide network. The newsletter content is primarily produced by Our Future's Regional Leaders team and the OF Newsletter Committee–to suggest content or to provide feedback, please use the comment form at the bottom of the page.
In This Issue:
Nature Spotlight:
Developing a love of nature in order to protect it
(Content written by Maddie Joyce, Caldera HS, Bend OR)
Sometimes, the best thing we can do for nature is reconnect with it. Getting out and being in nature helps us rediscover our love for all things outdoors. In Oregon, we have so many beautiful places to visit. To reconnect with nature, I took a walk down by the Deschutes River in Bend. The sun hit the water, refracting, creating star-like sparkles across the water. It was almost meditative listening to the rush of the river. I took deep breaths, breathing in the smell of the ponderosas. I realized how much I love nature and how I want to treat it better. This Earth is our home and to learn to respect our home we need to fall in love with nature.
By loving what is just outside our doors and our cities, we can better understand how to care for it. For me, I'm passionate about animals, and getting out and seeing the wildlife inspires me to take action. I decided to apply to the Humane Society to volunteer an hour a month reading to the animals. Seeing animals in nature made me take action. What can you do in nature that will inspire you to take action?
The Basics of Environmental Injustice
(Content written by Temneat Abebe, David Douglas HS, Portland OR)
Environmental justice is a social movement that strives for the equal sharing of environmental benefits and responsibilities linked with economic output. The environmental justice movement started in the 1980s in the United States, influenced by the American civil rights movement. The idea of environmental justice is primarily centered on the injustices done to particular racial groups inside wealthy countries such as the United States.
As time has passed, the environmental justice movement became increasingly global rather than focused on a single issue.For example, air pollution mostly impacts low-income and minority populations, proving that the United States' sad history of economic inequality and environmental racism surrounding air pollution persists. Pollution has the biggest influence on communities (economic level, race, poverty rates, etc.). A disadvantage of inhaling the particles of pollution has major effects on human health, including severe asthma episodes, heart attacks, and early death.
This 2018 study shows the distinction between races and poverty, "communities living below the poverty line have a 35 percent higher burden from particulate matter emissions than the overall population. Non-whites had a 28 percent higher health burden and African Americans, specifically, had a 54 percent higher burden than the overall population". Our economy is counting on us to break this long-standing cycle of inequality. Environmental inequality cannot be abolished, but it can be reduced significantly. There are plenty of ways to obtain this goal. Achieving this goal will only work if we all come together to try and make a change through education and advocacy.
Our Future's mission statement is to "create a statewide student-led network that amplifies student voices in addressing climate change and climate justice in Oregon schools, communities, and beyond."  Not only will this work raise awareness, but it will also educate people on how race/wealth links to the climate catastrophe. So how can people help? Businesses can do many things to support climate justice activities, including identifying corporate operations that unfairly harm communities based on race, and developing solutions focusing on climate justice and racial equality. It is critical to include individuals affected by the climate crisis in community-driven climate resilience planning. Our Future will focus our efforts in our schools first, creating connections between students and educating on the issues to strengthen our collective voices. Now let's make a change!
Project Spotlight: Crescent Valley HS Greenhouse Renovation
(Content written by Maya Schwartz, Crescent Valley HS, Corvallis, OR)
The last year and a half of the pandemic experienced a major shift to online school, and an absence of kids attending the school's physical facility. This also meant the deterioration of facilities that were previously overseen by students, such as CV's very own forgotten greenhouse.  Formerly run by the Students for Environmental Action Club (SEA Club), as members of this club return to their greenhouse duties we are realizing more and more that this problem is too big for such a small group of students to handle. Nature knows no boundaries, and the greenhouse has become a home for many creatures over the past year and a half, including a live mouse nest, a live bat, multiple dead birds, etc.
It has been SEA Club's responsibility to carefully remove these animals over the past few weeks. The greenhouse has also unfortunately become a makeshift hair salon for some students, who left clumps of hair and clippers in the building. Unlike nature, students should have personal boundaries, and it should not be the work of simply the SEA Club members to maintain our greenhouse. We need to assign the responsibility of our greenhouse to the entire school, as this is the only way that we can efficiently renovate and preserve our greenhouse long-term. And we have big plans for the CV Greenhouse 2.0! The first obstacle that needs to be tackled is the structural integrity of the building.
The passing of the Oregon seasons with their harsh winds and frequent downpours, have greatly affected the siding and roofing of the building, leaving holes in the roof and major cracks in the siding. This consequently exposed the greenhouse to animals and moisture from outside, and has eroded the once technologically specialized irrigation and air circulation systems. It's imperative that the framework of the greenhouse be reassessed, and the entire walls be replaced with a more long-term solution to protect the interior of the greenhouse from destructive Oregon weather. 
The next challenge is the clearing, cleaning, and organization of the contents within the building. Due to the past year's neglect of the greenhouse, disorder and buildup of excess material is very apparent. The clutter and disarray of many of its areas points towards the fact that inventory has not been efficiently taken in many years, with expired materials dating back to 2013, and a surplus of plastic planting materials.  With the cooperation of the CV student body, and help from volunteers and SEA Club members, the Crescent Valley greenhouse has the potential for a very bright future. SEA Club hopes that the greenhouse can become a beautiful place to appreciate the natural beauty of our campus, and to cultivate plants and crops in order to give back to the community.
After this beautification process, the CV Greenhouse will serve as a serene sanctuary for students and community members to enjoy, and its renovation will be a symbol of the school's bounceback from a pandemic that was once devastating.  If you have any questions, advice, or interest in volunteering at the greenhouse, please contact seaclubcvhs@gmail.com. SEA Club and all other volunteers gather on Fridays from 3:30 to 5:30 pm. All volunteer hours count towards National Honors Society (NHS) mandatory volunteer hours.
Join in the effort to make the CV greenhouse an organic and luscious place for the student body to enjoy!
Oregon Current Events:
Raising Awareness of Tide Pool Pollution Through Art
(Content written by Summer Tan, West Linn HS, West Linn, OR)
Through March 13th, a collection of sea life sculptures made from marine debris will be featured at the Lincoln City Cultural Center. Titled "Washed Ashore: Art to Save the Sea," the nineteen sculptures are the result of the Washed Ashore project, which was founded by Bandon, OR artist Angela Haseltine Pozsi in 2010 to help spread awareness of pollution along Oregon's coasts and waterways. [1]
The artwork is made entirely of marine debris collected from Oregon beaches, and, combined with educational signage, aims to teach children to take care of the ocean. The Washed Ashore project is helped by thousands of volunteers each year. In total, over 38,000 pounds of marine debris have been repurposed into art by elementary schools.  Schools (or individual volunteers of any age) can help the cultural center and receive training from Washed Ashore. Workshops are also held where volunteers collect debris from sites along Highway 101 to then create parts of sculptures to join the collection. [2] Currently, Oregon Episcopal School is working on a similar endeavor, where debris will be turned into collaborative artistic projects by students working with Our Future.    The National Oceanic and Atmospheric Administration estimates that over eight million tons of plastic are added to the ocean annually, contributing to worldwide issues of marine pollution and wildlife endangerment as marine life mistake the pollution for food or otherwise are harmed by it. In the Pacific Ocean, the Great Pacific Garbage Patch has enough debris to outweigh plankton. While one of many coastal states, Oregon is often one of the hardest hit by ocean pollution in addition to the overarching issues of climate change. [3] 
As the climate crisis worsens, it is crucial that education on climate change be supported in all manners possible. Art has long been held as an instrument of cultural change, and continues to provide accessibility through its existence. Moving forward, students may be interested in using art as a method of education and awareness by creating with items that previously harmed the environment.  More information on art as a form of activism can be found here.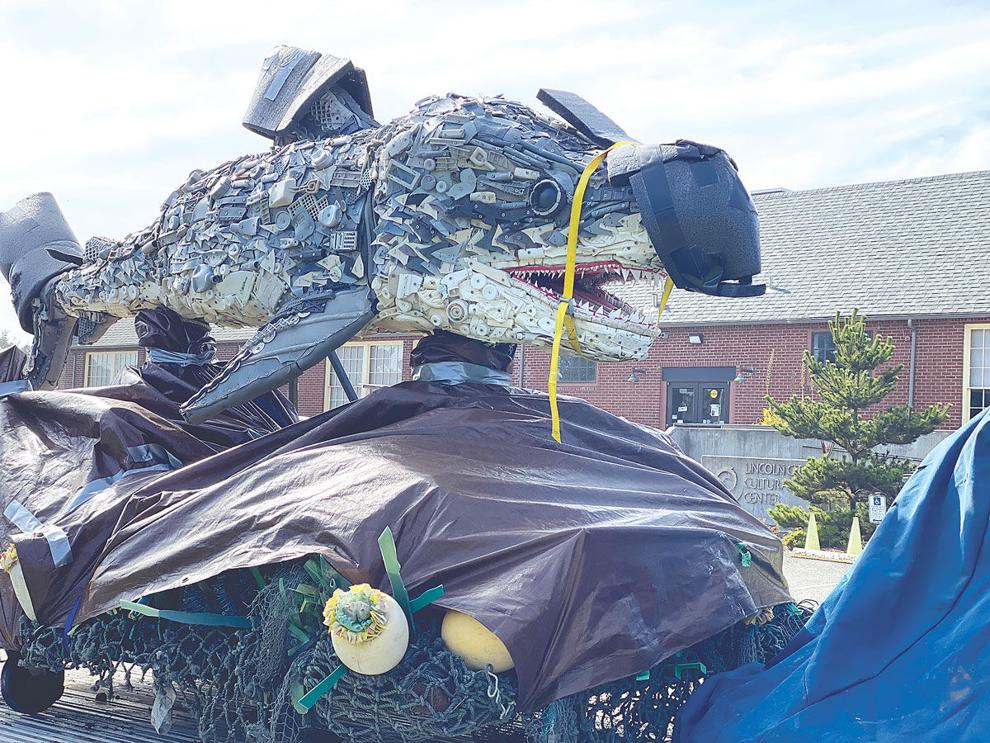 Chompers the Shark arrives at the Lincoln City Cultural Center to be part of the "Washed Ashore: Art to Save the Sea" exhibit, which runs through March 15th. Artwork, all made from colorful marine debris found on the beach in Oregon, will be on display both outside and inside the building. Source: Newport News-Times
Gertrude the Pengiun is on display on the west lawn of the Linoln Cultural Center. Source: Newport News-Times
International Current Events:
Global Impacts of the Climate Catastrophe
(Content written by Sunita Kothari, David Douglas HS, Portland, OR)
Over the past several years, there has been an increase in extreme climate events worldwide, such as wildfires, pollution, major heat waves, etc. According to Daily Maverick, the most severe climate-related catastrophes Africa has encountered are wildfires; in the year 2021, over two million hectares were burned, with over half a million hectares in Namibia alone. It is agreed upon by most climate science experts that increased wildfire severity is a consequence of human-induced climate change. This affects our environment because fires are deadly and destroy wildlife habitats and homes. It also pollutes the air with emissions that are harmful to human health. We can help prevent wildfires from happening by never burning anything when it's windy or burning in restricted areas. 
Air pollution is also a very concerning factor in our environment because it can damage crops and trees in many ways. It reduces the growth and survivability of trees and plants and causes environmental stresses, resulting in harsh weather and health problems due to the pollution. We can all prevent pollution by avoiding burning leaves, trash, and other materials, and reducing the amount we travel in gas or diesel-burning vehicles. According to a U.S. Environmental Protection Agency article, heat waves have been noticed as the leading cause of weather-related deaths in the United States. They cause heat stress on the human body, preventing it from effectively cooling itself. It also generates heat strokes on older people when the humidity is high, and sweat doesn't evaporate quickly.
This is a problem for many people, especially those who lack access to cooling, and often that's a lot of people. We can't prevent heat waves, but we can reduce their impact by increasing shade around homes, and using energy-efficient appliances. These issues are just the start of our climate problems, but we still have time to make a change before it's too late. By raising awareness, we can limit the negative impacts of these events and begin to make a change.
"*" indicates required fields
To provide feedback, or suggest topics, please fill out this form!