Our Future Newsletter: May/June 2022
Thank you for staying informed about what Our Future is working on, both in individual schools and as a statewide network. The newsletter content is primarily produced by Our Future's Regional Leaders team and the OF Newsletter Committee–to suggest content or to provide feedback, please use the comment form at the bottom of the page.
In This Issue:
Regional Leaders Support Oregon PreK-12th Grade Climate Education Legislation
(Content written by Our Future staff)

For the past few months, a group of Our Future Regional Leaders (RLs) have been working with Oregon Educators for Climate Education in their efforts to develop and refine legislation that would require a climate education framework for all Oregon PreK-12th grade public schools.  RLs have given feedback on the learning concepts and bill language, developed a survey that was sent to students throughout the Our Future network, and even designed some logos (like the one next to this text!).
Several Regional Leaders are continuing to work with OECE this summer, giving feedback on curriculum a cohort of teachers are developing that will provide examples of how this type of education could look in classrooms. In addition, some Regional Leaders are also in the process of organizing meetings with their legislators to discuss the climate education bill, and why they feel their representatives should be supportive of it when it comes before the Oregon House of Representatives in early 2023. The entire Our Future network will be engaged in outreach and advocacy in the fall, reaching out to students, teachers and families across the state to raise awareness and build support of the bill.
How to Get Involved:
Get informed: Review the bill's learning concepts and draft language.
Give feedback: Fill out the OECE survey and give feedback on the ideas presented in the bill and learning concepts. (NOTE: This survey is open to anyone, not just students!)
Get involved! Our Future RLs developed a "civic action toolkit" that students can use to find and contact their legislators to set up a meeting to request their support of the bill. If you'd like to use the draft letter text as a jumping off point, you can find that HERE. (Note: if you would like to contact a committee member of OECE about supporting you at the meeting, please use this form.
This is civic engagement towards real climate action–please consider getting involved!
Project Spotlight: West Salem Composting Project
(Content written by Avery Erdmann, West Salem HS)
Though many people have a basic understanding of the negative effect of CO2 on the environment, most are unaware of how severe the effects of another harmful gas, methane, can be. Some of the biggest methane emissions come from food waste rotting in landfills. As Americans waste nearly 60 million tons of food per year, food waste contributes to over 8% of global greenhouse gas emissions (Hu, 2020). One way to combat this important issue is composting. Composts allow the food waste to break down using heat, agitation, and moisture. This process allows the waste to receive oxygen as it decomposes, resulting in less methane being released into the atmosphere. 
Several students from Our Future are currently in the process of implementing a compost program at West Salem High School. Food will be collected in waste bins in the cafeteria, which will be monitored by volunteers for the first few weeks, and taken to the compost location. In partnership with the compost, a garden is being created by the Environmental Club at West Salem High School, and the two will be mutually beneficial to each other. The rich soil produced by the compost will be used to fertilize the garden, and in turn, unused or inedible vegetation from the garden can be returned to the compost to decompose. 
The spot where the compost and garden will be located is out of the way enough that the odor will not be apparent to students, but is easily accessible. The location has access to irrigated water and sun, two factors that are extremely important when constructing a compost. 
A plan is also being developed to educate students about the negative effects that food waste has on greenhouse gas emissions, and how they can work to reduce those wastes themselves by only grabbing food at lunch that they plan on eating, and using the food waste bins in the cafeteria effectively. With this education system in place, the compost will be hugely beneficial to the school. Not only will the project reduce the effect that our cafeteria food waste will have on our environment, but it will also bring awareness to students about climate issues and what they can do to help.  
Factors that are important to consider when considering the execution of a composting program are budget, time commitment, and use of the soil produced. If you are interested in creating a compost, or simply learning more about their beneficial impact on the environment, click here!
Green Tips
Content written by Sunita Kothari, David Douglas HS)
We see people littering around every corner of every street, and we never do anything about it because of how used to it we are.  But litter has the potential to cause harm to public health; it endangers wildlife, can cause damage to waterways, and many other negative factors. Many people intentionally litter because of how lazy or careless they are, or sometimes there is a lack of access to the trash. According to Texas Disposal Systems, "60% of water pollution comes from litter, and researchers also estimate about 40% of the world's litter is burned in the open air, which can release toxic emissions. These emissions can cause respiratory issues and other health problems." (source).This shows us that even the slightest litter can cause severe consequences for the environment. Some ways we can prevent littering are:
Keeping bags in the car to collect any garbage or rubbish. 

Disposing of garbage in the right bin.

Gathering every weekend or every other weekend to collect trash around your community.

When on the go, take food wrapping, drink containers, and other potential litter home with you and dispose of them in your trash.

Never throw trash out the window.

Educate students about the environment and the importance of stopping littering.

Reducing the number of disposable products.

Ensure there are enough bins around the school.
These are some tips that would be helpful to start with, but we can all try to contribute more as time goes on!  
International Current Events
(Content written by Ayushi Mallick, West Linn HS)
Close your eyes and try to imagine the Winter Olympics – mountains clad in glittering snow, gray mountain peaks, little green shrubs peeking out through the snow, and perhaps the occasional winter fox. That's how you would expect it to look, right? You bend to the ground and pick up a handful of what you believe to be snow, but it's strangely slippery and thick. You rub your fingers together and once the snow has disappeared, you are left behind with a sticky feeling. This is because what you're holding isn't actually snow – it's sodium polyacrylate. This chemical was used to produce 100% of the fake snow used in the 2022 Beijing Olympics. [1] [2] Photo: [9]
Since the fake snow is thicker, it takes much longer to melt, and can cover vegetation well into its growing season. This disrupts the normal growing cycle, and prevents it from growing to its full potential. This, in turn, causes a chain reaction; Animals and bugs who ate the plant or used it as shelter no longer have those resources. The animals that preyed on those organisms are having trouble finding food as well, since those populations have died out. This results in a cycle that is only getting worse for our wildlife. [3] 
Let's look to Europe now – specifically the UK. Would it blow your mind to learn that flowers are blooming a full month earlier than they did back in the 1700s? It's crazy, but it's true. A team of researchers at Cambridge University found that many plants are flowering a month earlier than they should, and it's caused a myriad of problems. When fruit trees flower too early, the frost may kill them off, since they're not suited to that type of climate. If one big part of an ecosystem is no longer thriving, the rest will all surely dwindle as well. If fruit trees stop growing, insects are not attracted to the area, and consequently, neither are birds. Once again, a chain reaction is set off that furthers climate change. [4]
However, there isn't only bad news to report. Many individuals and organizations have been working hard to mitigate the effects of climate change. In the past ten years, the price of solar powered electricity has declined by a whopping 89%. Greenland has announced that they are halting all oil searches and will solely be focusing on finding new methods of sustainable living. A Dutch court has ordered the Shell Corporation to cut down their carbon emissions to 45% by 2030. These are all immensely huge breakthroughs that are currently helping us fight back against climate change and save our Earth. [5] Photo: [8]
Naturally, the next question is, What can I do? And that is a completely valid question – we as individuals should all do our very best to fight climate change. Some changes you can make to your life are as follows [6]: 
Buy local and seasonal products

Cut down red meat consumption

Avoid plastic packaging & use reusable bags

Save water & minimize food waste
However, as great as all of these things are, they're not the main reason why climate change is happening. Currently, only 100 of our biggest corporations contribute to 71% of the world's greenhouse gas emissions. [7] They are the ones whom we must influence in order to do our utmost best to fight climate change. Emailing your county or state's representatives or elected officials about your stance on current environmental bills is a great way to get involved in things. We can all do our best to fight climate change together!
What The Heat?! Heat Waves In India
Content written by Maddie Joyce, Caldera HS
This spring, South Asia has turned into Death Valley, with heat waves reaching up to 120F in India. This extreme heat is putting a billion people at risk of heat-related health problems. The main cause of this sweltering heat is global warming. 
India is already quite vulnerable to climate change and has been experiencing heat waves for a while, but not like this. March and April have been the hottest they've been in over a century. And with 70% of India's energy reliant on coal, temperatures are reaching 120F. Air conditioning is in higher demand than ever, the need for electricity reaching 207.1 gigawatts.To keep up with the demand, coal is being burned at a much higher rate. In order to keep themselves cool, India burns coal, digging themselves into a deeper hole. While this coal is providing AC, it is going to cause the climate to get even hotter in the long run, due to the carbon emissions it creates.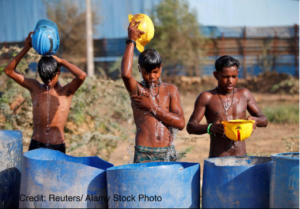 The poor are disproportionately affected by this heat. Most people in India don't have air conditioning, and rely on wet towels to keep themselves cool. Many people in poverty don't even have access to cool running water-people have died of heatstroke. 740,000 excess deaths occur annually in India due to climate change. 
Due to the excessive electricity demand, power outages have occurred across India. The demand for power has caused coal shortages leaving many people without much-needed power. Since April, the amount of coal at coal power stations has decreased by 14%. Sixteen out of the twenty-eight states in India have been affected by power outages that can last up to 10 hours. With coal running out, power crises will be unavoidable.
In the midst of all the bad news, this heat wave could mean good things for renewable energy. With coal running out and temperatures spiking, India may have no choice but to turn to renewable energy. By 2030, India Prime Minister Narendra Modi is pushing to install 500 gigawatts of renewable energy capacity. We can only hope for India that in light of the heat waves, this plan may be rushed.
Sources/More reading:
https://www.bbc.com/news/av/world-asia-india-61296452
https://www.npr.org/2022/05/03/1096085028/climate-scientists-say-south-asias-heat-wave-120f-is-a-sign-of-whats-to-come
https://www.cbc.ca/news/science/india-heat-wave-climate-change-1.6442517
https://www.dw.com/en/india-climate-change-ipcc/a-58822174
https://time.com/6173769/india-heatwave-climate-change-coal/
https://www.cnn.com/2022/05/02/asia/india-pakistan-heatwave-climate-intl-hnk/index.html
https://qz.com/india/2161069/indians-face-power-outage-amid-heat-waves-and-coal-crisis/
https://www.iea.org/commentaries/india-s-clean-energy-transition-is-rapidly-underway-benefiting-the-entire-world
Book Review: A Field Guide to Climate Anxiety
Isa Swain, Regional Leader from North Salem High School, reviews "A Field Guide to Climate Anxiety: How to Keep Your Cool on a Warming Planet" by Sarah Jaquette Ray. Isa relates her perceptions of the book with her experience developing and implementing a composting system at her school this year. To read the full review, please click HERE.
"*" indicates required fields
To provide feedback, or suggest topics, please fill out this form!